A Walk In The Woods
Fri: 4:15 6:45 9:00 / Sat & Sun: 1:30 4:15 6:45 9:00
Mon: 1:30 4:15 6:45 / Tues - Thurs: 4:15 6:45
After spending two decades in England, Bill Bryson returns to the U.S., where he decides the best way to connect with his homeland is to hike the Appalachian Trail with one of his oldest friends.
Rated R
(for language and some sexual references)
104 Min.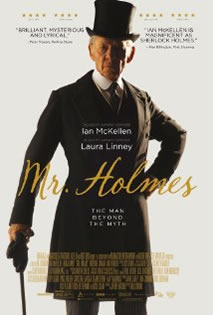 Mr. Holmes
Fri: 4:30 7:00 9:05 / Sat & Sun: 1:45 4:30 7:00 9:05
Mon: 1:45 4:30 7:00 / Tues - Thurs: 4:30 7:00
An aged, retired Sherlock Holmes looks back on his life, and grapples with an unsolved case involving a beautiful woman.
Rated PG
(for thematic elements, some disturbing images and incidental smoking)
147 MIN.

The Transporter Refueled
Fri: 4:15 6:45 9:00 / Sat & Sun: 1:30 4:15 6:45 9:00
Mon: 1:30 4:15 6:45 / Tues - Thurs: 4:15 6:45
In the south of France, former special-ops mercenary Frank Martin enters into a game of chess with a femme-fatale and her three sidekicks who are looking for revenge against a sinister Russian kingpin.
Rated PG-13
(for sequences of violence and action, sexual material, some language, a drug reference and thematic elements)

96 MIN.

No Escape
Fri - Sun: 4:30 7:00 9:05 / Mon - Thurs: 4:30 7:00
In their new overseas home, an American family soon finds themselves caught in the middle of a coup, and they frantically look for a safe escape in an environment where foreigners are being immediately executed.
Rated R
(for strong violence throughout and for language)

Shaun The Sheep
Sat - Mon: 1:45
When Shaun decides to take the day off and have some fun, he gets a little more action than he bargained for. A mix up with the Farmer, a caravan and a very steep hill lead them all to the Big City and it's up to Shaun and the flock to return everyone safely to the green grass of home.
Rated PG
(for rude humor)